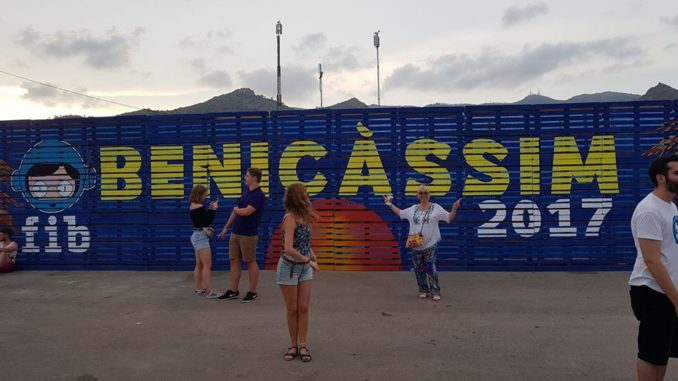 Well this is something new for us! Suggested by our good friend and fellow traveller Mr Chris Montague (Monty) we decided at the end of a levellers concert sat in our local wetherspoons pub to give it a go. Benicassim is held every july in sunny spain. Monty not good on his geography told us that this was near Barcelona! So i looked up flights to Barcelona Girona from our local Bournemouth airport with Ryan Air. Needless to say they looked cheap as they always are. So we decided there and then to go on this new trip summer 2017.
After booking the flights (What a mistake to make) we found that Benicassim is nowhere near Barcelona let alone Girona which is miles away from Barcelona. Why do Ryan air do that? The comedy show loosely based on cheap flights from Stanstead airport comes to mind. Where a passenger is told that the flight is being diverted to Barcelona Shannon (Shannon being in the Republic of Ireland). A funny sketch to be sure! Check it out.
Anyway we were not to be beaten so we organised a mini bus to take us from Girona airport to Barcelona Sans railway station and organised train tickets to take us down the coast to the festival. These must be booked in advance as there are loads of mainly Spanish fans making the same trip. You can not get on a high speed train in Spain without a pre booked seat. You will have to get early too as there is airport style security checks before you are allowed on the platform. This applies to all high speed trains in Spain not just for the festival.
We stayed in an apartment as did many others who did not fancy camping in intense heat. I will cover the lovely town we stayed in a later post. The festival lasts for 4 days and starts early evening as the heat can be unbearable during the day. The organisation of transport on our first day was frankly terrible with long queues for coaches to take us back from the festival with little or no staff to help out. This blighted the first day experience. Sadly we were so affected we gave the 2nd day a miss along with groups of other festival goers.
When we returned for the last 2 days we happily found better organisation with clearly marked queues etc. Why this did not happen the first day as this festival has run for many years is beyond us.
Benicassim itself has three main stages, a disco area and numerous smaller marquees. There is also a lovely small stage with local Spanish bands as you enter the site. Over the days we were entertained by various famous bands and artists from around the world including, The Red Hot Chilli Peppers, Love of Lesbian, Liam Gallagher, Stormzy, The Slaves, Pete Docherty, Kasabian,Biffy Clyro,The weekend, to name a few. I thought the music in general was a good mix for everyone.
The facilities at Benicassim were overall very good .There were plenty of toilets to use,( but why do some people feel the need to urinate on the ground?) Not very pleasant for everyone else. But i suppose that's festivals for you. Back to the facilities, loads of very good food stalls with eating areas. A few festival stalls selling the usual stuff, and as you would expect loads of alcohol bars.
So as a summary we enjoyed the event marred only by the chaos on the first evening and the idiots which always seem at these sort of events. I would give the festival a 7 out of 10. At least we didn't have to contend with the Glastonbury mud and the rain. Viva Benicassim!
Check out the website http://fiberfib.com