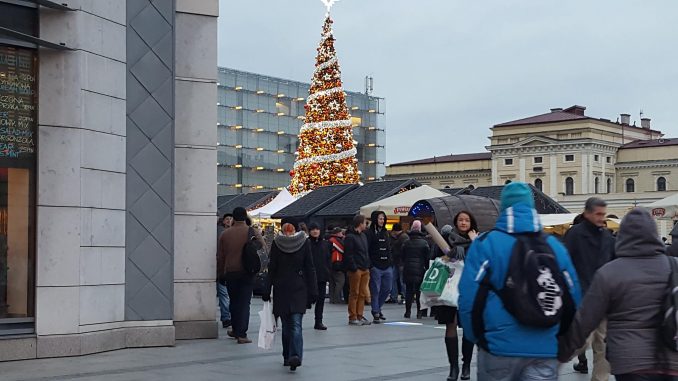 WIANKI FESTIVAL KRAKOW
With Kevs Tours we have visited Krakow 4 times. Our first visit was a day trip from our base in Katowice. This trip was to visit the annual Wianki Festival which is celebrated every year in summer. We went to a musical extravaganza on the River side by the Wavel Castle topped of with what can only be described as an awesome firework spectacular.Our group travelled to Krakow by train which although only a short trip from Katowice took at times what seemed an age. Polish local trains are not renowned for their speed. How ever the cost of travel is a fraction you would expect to pay in the UK. The Polish railway network also supplied many over night trains to deal with all the spectators visiting the Wianki Festival which was a nice touch. We were treated to some great live music from Ali Campbell of UB40 Fame, Banannarama, Alphaville to name a few. All of which was broadcasted live on Polish TV. Clips of this and other years music can be found on You Tube.
CHRISTMAS MARKET KRAKOW
On our other visits to Krakow we have timed it to coincide with the Christmas period. This is truly a spectacular time with gigantic Christmas trees in the Market Square and the ultra modern shopping centre. There is something to say about christmas shopping outdoors with snow on the ground and all those lovely smells from the scented candles and the excellent offerings of food available. We really enjoyed the Polish Sausages and cabbage washed down with mulled wine. If the outside Market is not your scene then the shopping centre situated next to the main train station is huge. I challenge anyone to not be impressed everything under one roof complete with bus and train transport links. If you travel to Krakow there is a direct cheap train link to the airport. Flights start again to Krakow from Bournemouth airport with Ryan Air. Daily concerts take place at the 2 Markets in Krakow at Christmas and run from 1st December through to the new year. http://www.ryanair.com
OSKAR SCHINDLER
Most of you will know of Oskar Schindler through the Stephen Spielberg film Schindler's List. His enamel Works factory is situated in Krakow. Today it has been transformed into a Museum commemorating the man and his deeds. Situated in the old works is also a comprehensive museum covering the holocaust and the fates of the jewish getto under nazi rule. This site is truly worth a visit and can be reached by bus from the town centre. Or alternatively take a tuck tuck ride which will also take you around other interesting sites in this historical city. The Jewish quarter, The Jewish ghetto wall remains. Many famous churches and monuments and the very imposing Wavel Castle. It is worth noting that Schindler's factory museum and Wavel castle needs about 2 hours each to look around if not 3. The tuck tuck trips are good fun and worth a ride when in Krakow most guides speak in English and will point out places of interest along the routes. This city is a must for anyone who enjoys culture and history as the ex capital of Poland it truly has a great deal to offer.  http://www.oskarschindler.com
STAG AND HEN PARTIES
As most eastern cities have become popular destinations for group of stags and hens Krakow is no different. It boasts plenty of bars and clubs at really cheap prices these can become really busy at weekends. Normally in good spirit the parties carry on until the wee small hours with little trouble. However beware the local Polish Police are tolerant to a point. But if your deemed to drunk for your safety you will find yourself escorted to the local Drunk Tank where you will find yourself hosed down with a cold shower, and housed for the night along with 5 other drunks until you are all sober. You will then be charged around £60 to £70 for the privilege. If you are aggressive towards the police you will find yourself strapped to a bed in the Drunk Tank for anything up to 4 hours at an extra cost. So the answer is enjoy the beer and the ambience that  Krakow has in abudance. Visit the bars and clubs and enjoy yourself without going over the top. Remember Polish beers are stronger and cheaper in Poland.