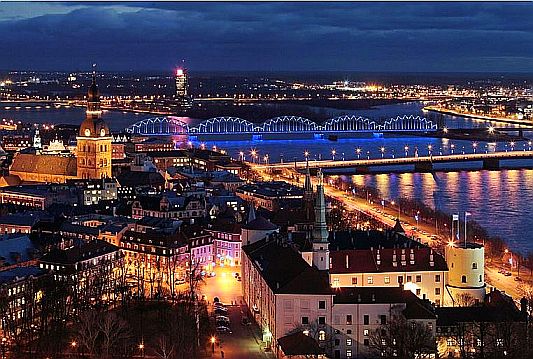 Never ignore Latvia as your choice as a holiday destination – you will be pleasantly surprised at what it has to offer from Culture to History to value for money!
Riga Latvia
This beautiful city is the pearl both of Latvia and the whole of the Baltics. Riga is included in the UNESCO World Cultural and Natural Heritage list.
This is the first of three areas we stayed in, flying into Riga Airport we found it very easy to find a taxi to take us to our hotel The Kolonna Hotel right in the centre of all the action. With the buzzing night life just on the doorstep, where you can enjoy one of the many choice of beers on offer at the open plan bar just a stones throw away or carry on to explore the immediate area where shops restaurants and bars are plentiful. There is truly something for everyone in this area of Riga.
After a night in the local area, spending a day strolling into the beautiful city was a must.  There are of course, plenty of shops, places to eat and many bars to visit. We would recommend finding the The Bronze Boar which is situated around the block from the Kolonna Hotel, and legend says rubbing The Bronze Boars nose will bring you luck.  One of the interesting things you may notice about the buildings in the town is how steeped in tradition they are… get yourself a map from a local shop and take a tour of the old town – embrace the rich culture and the architecture – there is certainly lots to take photos of in the beautiful streets of Old Town Riga.  You can do this in a morning, have lunch outside one of the may bars and still have some time to shop!
Lapmeziems Latvia
We spent around six hours in Riga and then we got into a taxi and headed to our next destination  :- a log cabin in the small fishing village of Lapmeziems, which is about an hours drive from Riga.  The jourey took us through some stunning wooded areas and past some equally stunning residences.  The route  was clear, no heavy traffic and the taxi ride was very affordable between a small group.  When we arrived in Lapmeziems, we discovered what appeared to us to be a whole new undiscovered world – no tourists meant we really met with a local town with local people.  The taxi driver initially struggled to find the log cabin as it was built on what can only be described as farmland, with an adjacent rather unusual almost tatty building that we later discovered was the hotel!  The property was gated and as we approached a rather large dog appeared to bark a warning!  we rung the bell on the gate and an old gent who would not have looked out of place carrying a banjo (!) appeared to let us in…we felt as if the taxi driver was reluctant to leave us but we assured him we were safe!  The dog was advised that we were guests and immediately became our best friend for the following few days.  Shown to our log cabin – we were in awe at how a rather ramshackle place had been used to provide what can only be described as one of the nicest places we have ever stayed in!  A perfect log cabin with a built in sauna, shower with 'natural sulphar water' and four sleeping rooms – it was our idyllic home for the next few days.  Our first night was spent on the veranda of the log cabin watching the clear skies light up with shooting stars and we would say this is a perfect place if you just want to get away from it all. We had a BBQ on our second night and went for a long country walk to the fishing lake that run along the back of the property. If you are a keen fisherman this is ideal and you can hire a boat where you can enjoy a day out on the lake or just have an enjoyable stroll checking out the woodland and do a spot of bird watching.
We also had the opportunity to use the owners sauna in his own home which was a German Sauna built by hand and was by far the biggest and hottest sauna  we have ever seen!  he was very proud to show this off although it was a tad weird to us English folk to be going into his home but then that's the people of Latvia – really friendly and proud of what they have achieved.  Back on the main road, before turning into the property there is an extremely nice tavern one of only a few on this stretch of road, which serves an amazing menu of traditional food served in clay pots and bowls for just a couple of pounds – sheer heaven on a plate. The beer is rather nice as well!
A walk along the stunning beach which goes on for miles is a must, as you walk through the residential pathways to get down to the shoreline you are treated to the most wonderful properties that are situated in beautiful planted gardens with an abundance of flowers and fauna.  The beach is a photographers heaven with birds and fish and the occasional fishing boat lying on the sand – just be aware in the hot weather there are a lot of sand flies – and they do bite!
A trip on a bus to the next village along called Ragaciems is a nice way to spend the afternoon and in the summer time there will be a small pop up bar where you can taste  some very different ales.  There is a modern eatery called Lindaga , which was similar to a service cafe, which served some very tasty Latvian cuisine and as is always the case – everything in the food line is spotlessly clean and mega cheap!
Jurmala Latvia
Jurmala is a stunning area to visit and the houses along the route to Jurmala are reminiscent of wooded colonial heritage, beautifully painted and in immaculate gardens – Jurmala is as pretty as it is beguiling and stands out as a place we have visited more than once!  It has probably our favourite beach of all our destinations and has to be seen to be believed.  This is a beach that is so shallow you can walk out for miles and not get above your waist in water – crystal clear and ripple free in the summer it actually freezes over in the winter and people skate on it!  The sand strip goes on for miles and it is ideal for walking, riding bikes or horse riding.  Every few hundred yards there are changing pods that are clean and rubbish free that can be used all year round.   The properties that line the beach to the main streets are mainly hotels and include an original massive hotel that was originally owned by the Russians -its architecture is magnificent. There is also a rather large hotel that looks rather like an ocean liner on the beach front!  As you reach the 'main' drag you will see that the beach gets busier leading up to the main street, which is almost colonial in style and is packed with eateries, bars and shops that stay open till after 11.30 pm at night – the town is mega lively in the summer and music can be heard playing till the wee small hours.  Of course as with most beaches in the summer months there are endless pop up beach bars to add to the fun of a day on the beach and as the water is always tepid/warm – swimming continues until dark most days in the summer.
We stayed at The Dzintars Hotel, immaculately designed, again in colonial colours, it was perfectly placed for the last couple of days of our tour of Latvia. The train connection into Jurmala is rather fun as the train line goes right through the woodland, which backs onto the main street and all the residences . A hop on hop off scenario means you could be hopping off and into someone's back garden!  If staying in Jurmala then a trip on the train back to Riga is an easy trip and again cheap at approx £3.00!
We used the train to visit the 72,000 square foot market in Riga that is made up of three WW2 hangers and has three sections, food and flowers, household and clothes and fish! (just be careful of the fish hangar as it does smell a bit).
Latvia,  and in particular, Riga, Jurmala and Lapmeiziems has it all for the perfect holiday and is definitely on our top ten in the best places to visit list!