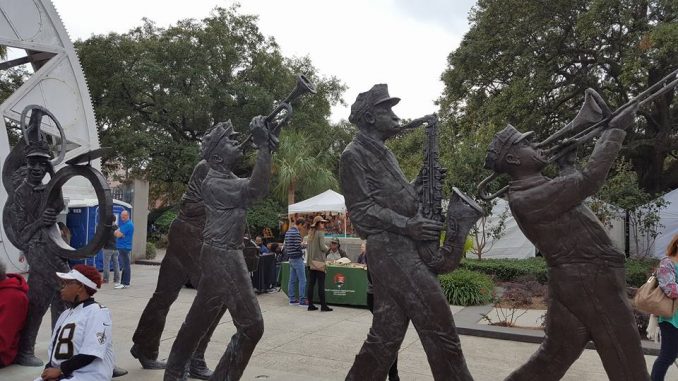 The City that never sleeps..The Big Easy. Wow what a trip! Still exhausted thinking about it. We stayed for our first stop at the best hotel Frenchmen Orléans 519. Situated in what can only be described as the best street in the french quarter of New Orléans. If you want peace and quiet please do not book here. Frenchmen street is a mix of eclectic bars bars and more bars. Oh and bars. No seriously there is also a quaint art and craft market a brilliant Hot Dog café and other great eateries oh and even more music bars. Live bands echo out of most establishments and the street is full of entertainers from Twerkers to Clowns and full Brass Bands. After being there for less than 24 hours nothing will surprise you. We even had a mobile disco pitch up outside the hotel at 2.30am on the back of a trailer complete with DJ and dancing-girls in the middle of the street, Party it was till way after 4am. I did say earlier if you want peace and quiet do not stay here. Even when you finally got to bed you would be awoken to the strains of a jazz band playing opposite. Yes you guessed it some had not even been to bed yet!
The Frenchmen Orléans 519 is a smallish hotel with no restaurant. Who needs that when you are in New Orléans? It does however have a small swimming pool outside along with a recently renovated hot tub. It boasts 2 average size communal balconies where you can watch the street entertainment and listen to music. A nice touch. The hotel boasts a very secure entry system and a 24 hour reception. It also has a secure room to leave cases in on your last day. A free water machine is provided and a coke machine in the communal area. All apartments are self catering with cookers, microwave, coffee machine and fridge. There are TVs in all the bedrooms and a very good air con as well. The only down side is the Wi Fi signal in some rooms towards the back of the hotel is poor. Towards the front and the balcony the signal is excellent. The staffs in the hotel were brilliant and the place was very clean. If you want fun great music and a great time stay here.
Whilst enjoying Frenchmen street we also had time to take the paddle steamer up the Mississippi which was a fantastic trip well worth going on. Look online before your trip as there are plenty of vouchers available which will save you money on various attractions around the city including the paddle steamer. We also took a 3 hour trip on a tour bus which took us around the city  including the Garden area, the Treme, and the lower 9th ward where Hurricane Katrina devastated large swaths of the area. Our very informative driver explained exactly what happened to the city and its people.
Facts about Hurricane Katrina
Hurricane Katrina was the largest and 3rd strongest hurricane ever recorded to make landfall in the US.
In New Orléans, the levees were designed for Category 3, but Katrina peaked at a Category 5 hurricane, with winds up to 175 mph.
The final death toll was at 1,836, primarily from Louisiana (1,577) and Mississippi (238). More than half of these victims were senior citizens. Keep seniors safe and sound, and help them plan for hurricane season. Sign up for Seniors Safe and Sound.
The storm surge from Katrina was 20-ft (six meters) high.
705 people are reported as still missing as a result of Hurricane Katrina.

Hurricane Katrina affected over 15 million people in different ways varying from having to evacuate their homes, rising gas prices, and the economy suffering.
An estimated 80% of New Orléans was under water, up to 20 ft deep in places.
Hurricane Katrina caused $81 billion in property damages, but it is estimated that the total economic impact in Louisiana and Mississippi may exceed $150 billion, earning the title of costliest hurricane ever in US history.
Hurricane Katrina impacted about 90,000 square miles.
The region affected by the storm supported roughly 1 million non-farm jobs, and still, hundreds of thousands of local residents were left unemployed by the hurricane.
More than 70 countries pledged monetary donations or other assistance after the hurricane. Kuwait made the largest single pledge of $500 million, but Qatar, India, China, Pakistan and Bangladesh made very large donations as well.