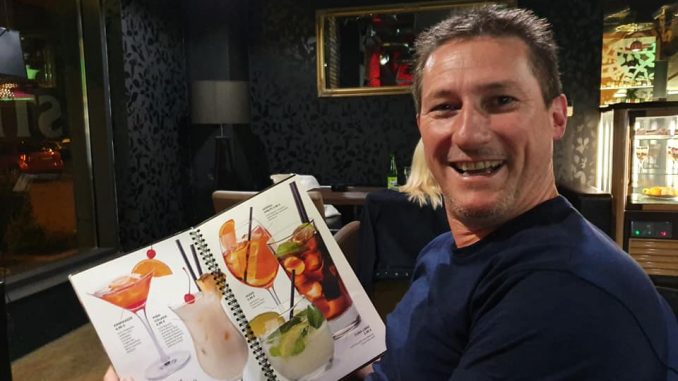 Slovakia and the town Komarno
Well what can i say Budapest and Hungary in general was fantastic fun. Even the last couple of slightly drunken hours on the border was memorable to say the least. Especially Mark Hotchkiss getting chastised by the waitress for taking her photo. Umm naughty Mark. Where is the photo? Anyway we nearly spent all the available change or not. Well after 1 or 7 pints we decided to cross the Danube into Slovakia so we say goodbye to Komarom and Hi to Komarno in Slovakia.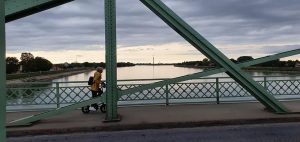 The bridge from Komarom to Komarno .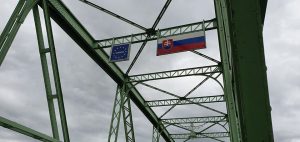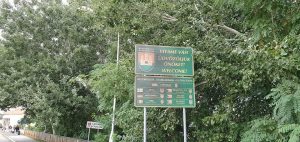 What a difference Komarno is simply lovely with its picturesque town centre. Photo opportunities a plenty as you can see!
Views around Europe Square Komarno.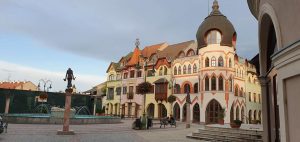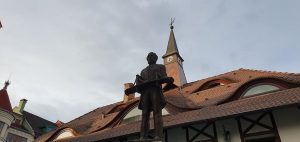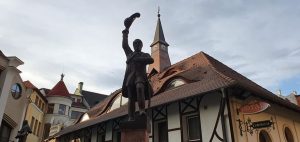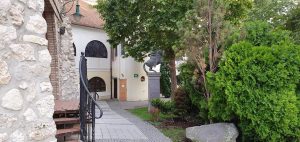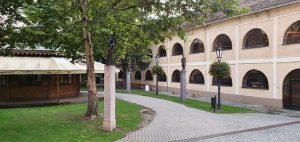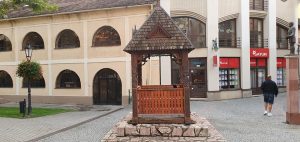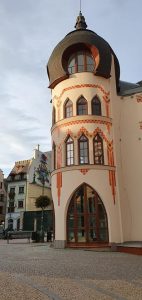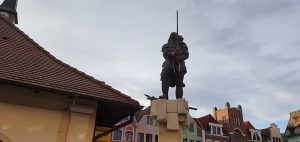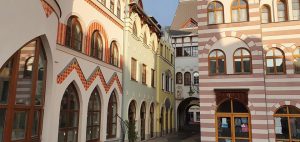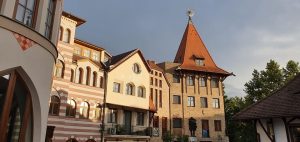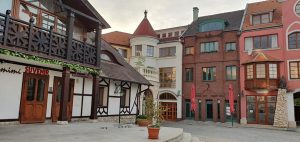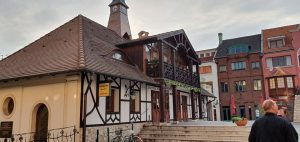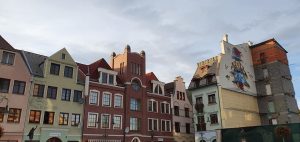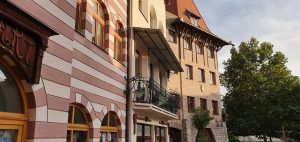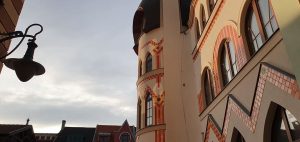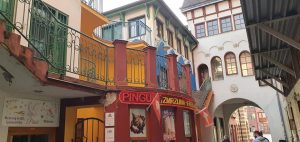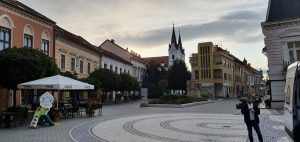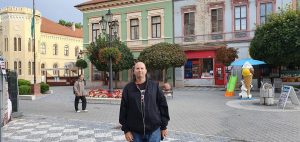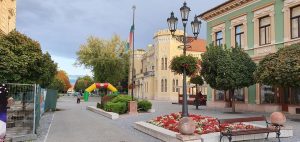 Our Restaurant Klapka Kormano.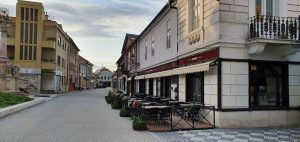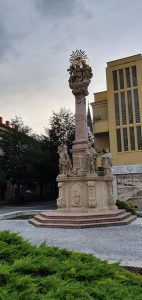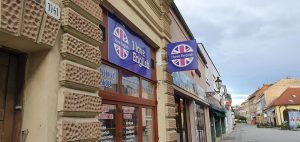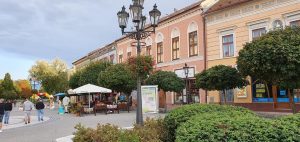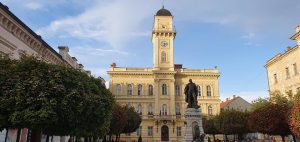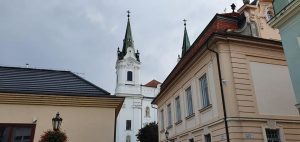 We were only here for one night enroute to the capital Bratislava but oh what a night after dropping our cases of at the Hotel Bow Garden we explored the town including Europe Square and sampled a great meal at Klapka restaurant wow what a gem. The cucumber salad was fantastic. Great atmosphere, great company, fantastic food. 5 stars thanks. Please check them out and mention Kevs tours.
 The Cucumber Salad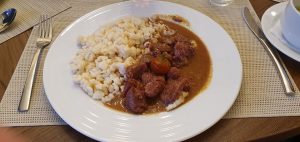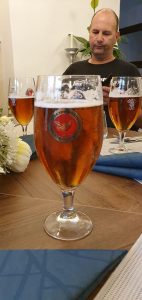 That night after a few drinks myself and Peter Rowson decided to go for a night cap or 3 at JORK-SK s.r.o Elektro Komarno. Which is a gambling den with a 24hr bar situated near to our hotel. The staff and customers were very friendly and made us welcome using Google translate. Im not sure what time we left but a great memorable night was had by myself and Pete.
Next day we all met in the bar area of the Hotel Bow Garden some of us sat outside and enjoyed the September sun in the tranquil gardens. And the rest of us decided to eat and play ten pin bowling as the hotel had 4 lanes directly in the centre of the hotel kind of cool. All I remember that afternoon apart from having great fun was that the winner was Mark Spark, I came second 1 pin behind and that Grant came last with one of the truly most worst 2 games of bowling we have ever seen. Since then he has won the competition in Benidorm im really not sure how???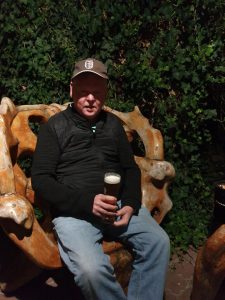 Peter Rowson ready for the night!L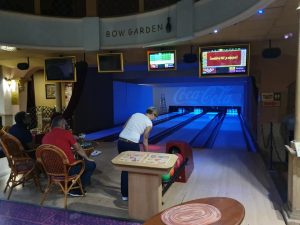 The inside bowling lanes at Hotel Bow Garden Komarno.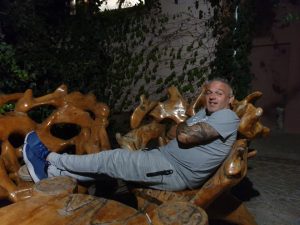 Mark chilling 1st night.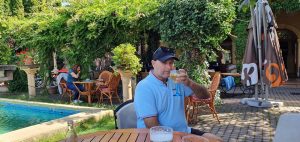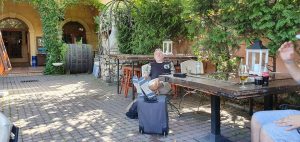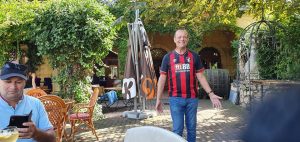 Care Free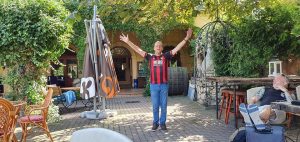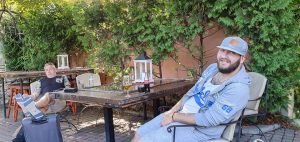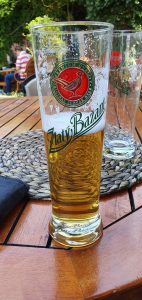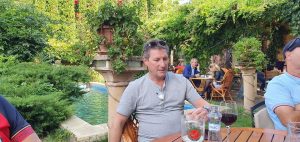 Mark Spark enjoying a gin or three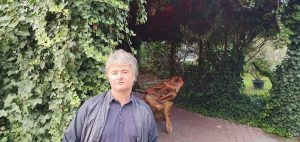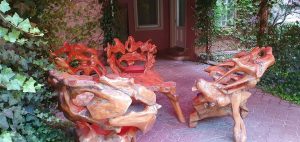 Hotel Bow Garden Komarno.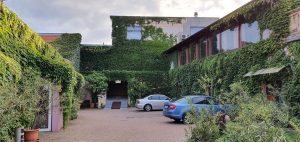 After the bowling we trudged of to the train station to realise we had nearly missed the last train. Trains are not to frequent to Bratislava so a wait of over 2 hours at an empty train station wasn't so much fun. We eventually got a train and after i mislaid our tickets we made our way to the capital.
When we arrived at the main station we hailed a taxi (Big mistake) 2 mile journey charged for about 10 miles. Footnote download the Bolt app then order. Price will come up before you confirm. Anyway lessons learnt we arrived fairly late at the Hotel Viktor situated about 2 miles from the town centre. It was late so we decided to find a bar, after some detours etc we found what we called Bar 1 others found a splendid restaurant hotel called Berg. This concluded our first 2 days in Slovakia. More to follow in my next article.